*German/ English version below*
Nur noch ein paar Tage und die Schulferien sind in Bayern wieder vorbei. Der Kleine geht wieder in die Kinderkrippe und meine Tochter wird in den Kindergarten gehen. Sehr aufregende Zeiten kommen da auf uns zu. Während unser Kleinster sein Früstück in der Kinderkrippe bekommt, muss ich für meine Tochter alles schon am Vorabend vorbereiten. Die Brotbox und die Trinkflasche stehen schon in der Küche bereit für den großen Tag.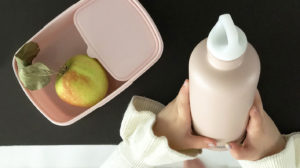 Wenn es um das Thema Getränke geht, sorge ich dafür, dass meine Kinder hauptsächlich Wasser trinken. Von Anfang an mochte ich den Gedanken ihnen zu viel Tee oder Saft zu geben so gar nicht. Außerdem macht es das Leben einfacher, wenn man nur den Wasserhahn öffnen und das Glas oder die Flasche füllen braucht. Ja, mein Mann, meine Kinder und ich trinken zu Hause nur Leitungswasser. Ich war sowieso nie ein großer Fan von Sprudelwasser und meine Kinder mögen es auch nicht. Für Sprudel-Liebhaber kann man das Leitungswasser ja mittlerweile einfach mit Kohlensäure versetzen.
Damals, als meine Tochter noch ein kleines Baby war, habe ich für jede einzelne Mahlzeit das Wasser vorher abgekocht. Aber mit der Zeit habe ich gemerkt, dass das Münchner Leitungswasser so gut ist, dass das gar nicht nötig ist. Ich öffne einfach den Wasserhahn und warte, bis das Wasser vollständig heiß ist. Ich fülle es in die Flasche und füge das Milchpulver hinzu. Fertig ist es!
Leitungswasser trinken bringt einiges an Vorteilen mit sich. Was ich am meisten mag, ist es zu wissen, dass man keine unnötigen Ressourcen verschwendet, indem man Glas- oder Plastikflaschen verwendet. Wasserhahn öffnen und das Glas füllen. Das Münchner Leitungswasser wird von den Stadtwerken München geliefert und kommt direkt aus dem Voralpenland, also von quasi vor der Haustür. Es muss keine langen Strecke hinter sich bringen. Warum sollen wir Wasser aus Frankreich oder den Bahamas trinken, wenn wir leckeres Wasser in der Nähe haben?
Vielleicht habt ihr euch vorher gefragt, ob es wirklich in Ordnung ist, Leitungswasser für Babymahlzeiten zu verwenden. Ich kann das eindeutig bejahen. Abgesehen von den ersten Anfangswochen, in denen ich empfehle, das Wasser trotzdem abzukochen, ist es völlig in Ordnung, es dann nicht mehr zu tun. Das Münchner Leitungswasser wird regelmäßig kontrolliert und in den Gebiet aus dem es kommt, wird ökologische Landwirtschaft betrieben. Beides fördert die hohe Wasserqualität und erfüllt alle Empfehlungen, um eine Babymahlzeit zubereiten zu können. Wir machen das schon so lange so und sind mehr als happy.
Wir dürfen uns glücklich schätzen, in einem Land zu leben, in dem wir genügend Wasser und dazu auch noch sehr hochwertiges Wasser haben. Also nutzt die Möglichkeit und trinkt das Leitungswasser. Es ist nicht nur zum Geschirr spülen oder Duschen geeignet. Warum sollte man mehr Geld als nötig ausgeben und schwere Flaschen aus den Läden mit nach Hause schleppen, wenn man nur den Wasserhahn öffnen muss und so auch noch auf Einweg-Plastikflaschen verzichten kann?
*Dieser Artikel entstand mit Hilfe der Stadtwerke München
---
*English*
Only one more week and the school holidays are over. The little one will be back to the creche and my daughter will start kindergarten. Very exciting times for us to come. Whereas the little boy will get breakfast prepared at the creche I have to perpare it beforehand for my daughter for the kindergarten. I have the lunch boxes and drinking bottles already standing in the kitchen to be used.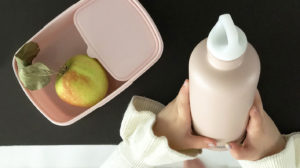 When it is about drinks I always make sure that my kids do drink water. From the beginning I didn´t like the thought of giving tea or juice. Anyway it does make life easier if you only have to open the tap and fill up their glass or bottle. Yes, my huband, my kids and me are drinking only tap water at home. I was never a big fan of sparkling water and neither do my kids. For those who love sparkling water water there are possibilities to add that yourself.
Back when my daughter was still a baby I boiled the water every single time before preparing a bottle or pap. But with time I realized that the Munich water is so good in quality that it is actually not necessary to do so. I simply open the tap and wait until the water is completely hot, I put it into the bottle and add the formula. Ready it is!
Ther are quite some advantages if drinking tap water. What I do like most is to know that you are not wasting resources by using bottles out of glass or even plastic. Simply open the tap and fill your glass. Talking aout sustainability, the Munich tap water is delivered from the Stadtwerke München and it is coming directly from the Voralpenland, so more or less infront of our house door. No long distance to be delivered. Why drinking water from France or Bahamas if delicious water is really close by?
You might have asked yourself before if it is really ok to use tap water for your baby´s food. I can clearly say yes. Apart from the very beginning where I do recommend to boil the water anyway it is totaly fine to not boil it later on. The Munich tap water is controlled regularly and the area where it is coming from is surrounded with farming with ecologically correct growing. Both does require a high quality of water and are conforming  to specifications that you need in order to prepare a baby´s meal. We do it for such a long way and we are very happy.
We are lucky to live in a country where we have enough water and very high quality water. So use the possiblity and drink tap water. It is not only good for washing dishes or showering. Why spending more money than needed and carrying heavy bottles from the shops home to your fridge when the only thing you have to do is open the tap and you even avoid plastic bottles?
*this article was made with th help of Stadtwerke München